Corey 1272's Web Page
Shetland Sheepdog Sheltie : : Male (neutered) : : Senior : : Small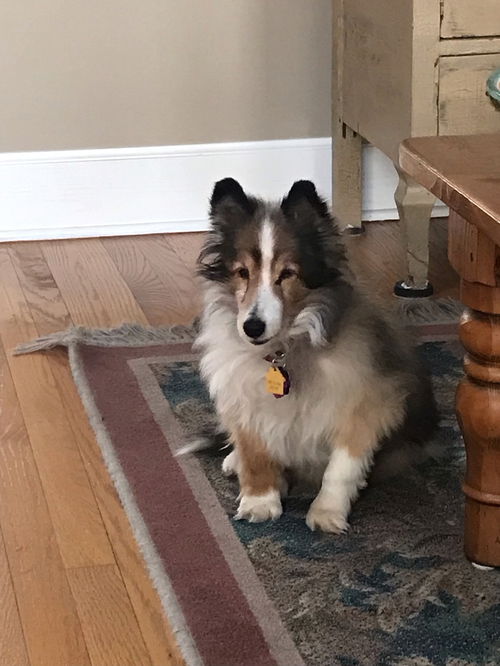 Learn more about the Shetland Sheepdog Sheltie.
About Corey 1272

Status: Adopted!
Adoption Fee: 75
Species: Dog
Rescue ID: 1272
General Color: Merle
Current Size: 13.9 Pounds
Current Age: 12 Years 1 Month (best estimate)

Microchipped: Yes
Fence Required: No
Housetrained: Yes
Reaction to New People: Protective
**Due to medical hold we are not accepting adoption applications for Corey at this time**
Corey is a sweet little old man who likes his nap time. He has learned to work the stairs and will find you when he's done napping. Sometimes this means sending out a bark or two to find out where you are. He doesn't jump on furniture nor like to be up there, but will put legs up or shovel nose for attention and scratches. This old guy is a hoarder and will protect anything he acquires, no matter the source. Sometimes, he'll wrap his front paws and legs around his treasure and sleep the time away with it. This little man is a character. He loves his person but it's a hard call on any one else. He pays little attention to other pets for the most part. He may be a little hard of hearing. Seems to search around for where some sounds are coming from at times. He doesn't need a fenced yard but does enjoy exploring when he is not on a leash.

More about Corey 1272
Good with Dogs, Does Good in the Car, Does not require a yard, Leashtrained, Cratetrained, Likes to play with toys, Apartment OK, Protective, Playful
Special Needs: Corey has one side of his heart slightly enlarged. It has caused some coughing and he takes cough tablets to prevent inflammation on his trach from coughing.