Finley 1270's Web Page
Shetland Sheepdog Sheltie : : Male (neutered) : : Young : : Large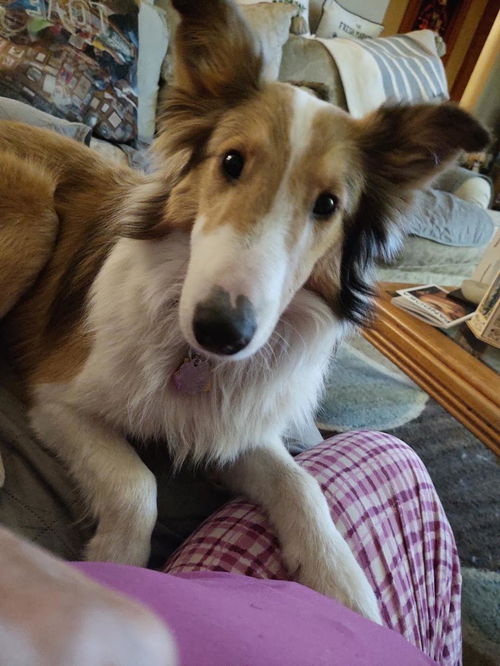 Learn more about the Shetland Sheepdog Sheltie.
About Finley 1270

Status: Adopted!
Adoption Fee: 250
Species: Dog
Rescue ID: 1270
General Color: Sable
Current Size: 25 Pounds
Current Age: 2 Years 8 Months (best estimate)

Microchipped: Yes
Fence Required: Yes
Housetrained: Yes
Reaction to New People: Friendly
Meet Finley he's a nine month old ball of energy! He's eager to give and receive love. He's very smart but needs patience and some discipline to turn into the fabulous dog he's going to be. Coming into rescue Finley did not know how to walk up or down stairs and within a day's time he learned how to master that task. He is very curious and wants to explore every nook and cranny.
Recently we had lots of snow and he had never experienced that before. At first he was afraid and didn't want to venture out. But with the guidance of our older Sheltie, she showed him the ropes. In no time at all there were snow Zoomies galore! He is crate trained and takes his meals with a slow feeder bowl as he would gulp everything down at one time if he could. He gets along well with the rest of our pack and has even brought out more of their personalities as well. As high energy as he is he does enjoy spending time on the sofa he's a great snuggler.
Finley can sit and is currently working on the command for shake as well as down. He is highly food motivated and enjoys his snuffle mat. Finley is an oversized sheltie pup with lots of energy. He is a very happy-go-lucky pup who is eager to give love and receive love. He truly truly truly loves his fur-sister Shelly, to watch the two of them play is awesome.
Mr. Finley has found his forever home with is foster family.
More about Finley 1270
Good with Dogs, Good with Kids, Good with Adults, Does Good in the Car, Requires a yard, Leashtrained, Cratetrained, Likes to play with toys, Playful, Affectionate, Intelligent